My book, 'Abdu'l-Baha, Einstein and Ether, is now available in an expanded, beautifully illustrated second edition.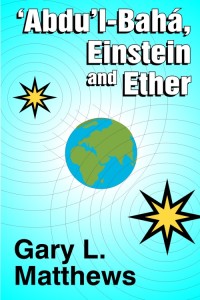 The new paperback, from Stonehaven Press, is 72 pages, perfect-bound, with 8″ by 5″ trim size. It is also the first Stonehaven volume to appear in ebook form: It's currently available for Nook, iPad, and most other e-reader devices and software. We'll have the Kindle edition uploaded any minute. (You can find both versions, print and electronic, at this link.)
Why does this book excite me? Well, I'm a journalist, and science is my beat. Journalists love scoops. It was once my privilege to scoop the Baha'i world with the first published analysis of Baha'i scriptural texts concerning ether, correlating these texts with modern scientific insights.
My original report appeared in 1993 in my book The Challenge of Baha'u'llah. Subsequent editions (1999 and 2005) featured the same basic material, but each time in greater detail as new documents came to light.
As a standalone small book, 'Abdu'l-Baha, Einstein and Ether was published in 2001, based on the data in Challenge.
When I say "based on", I mean that Ether (as I'll call it) was a synopsis — a light paraphrase of the account in Challenge. Printing and binding it ourselves, we kept it to a mere 28 pages to hold down costs. Some might feel it was too thin then even to call a "book" — perhaps merely a booklet.
No more! Our beefed-up second edition adds a wealth of new material, much of it unavailable in 1993 or even 2001. The book is now far more detailed and specific than the corresponding sections of Challenge. Drawings and photos add sparkle to the text. Among other enhancements is a timeline of quotes from Einstein himself, spanning his career, showing how his thinking about ether evolved.
Here's the backstory:
'Abdu'l-Baha is the son, successor and authorized Interpreter of Baha'u'llah, prophet-founder of the Baha'i Faith. Among Baha'u'llah's teachings is the sacred principle that scientific truth and divine revelation always must agree — to the extent, that is, that both are rightly understood.
That last proviso — "rightly understood" — may in practice prove difficult. The controversy surrounding "luminiferous ether" is a case in point. Physicists of the 19th and early 20th centuries believed that light consists of vibrations in a mysterious fluid called ether — a fluid filling all of space in much the same way water fills an aquarium.
'Abdu'l-Baha Himself affirms the reality of ether. The talks and written statements in which He does so form a permanent part of Baha'i scripture. Today, however, many casual readers assume He simply was repeating the mistaken beliefs of His time, beliefs that have since been discarded. Is this true?
As an avid student of science history, I have long found this apparent discrepancy fascinating. Ether, though nowadays largely forgotten, once was the hottest topic in science. Questions about its nature and existence (or lack thereof) precipitated the collapse of Isaac Newton's "old physics" and the rise of Albert Einstein's "new physics". The resulting theories of relativity and quantum mechanics led to atomic bombs, nuclear power, space travel, computers, the Internet, and other world-shaping technologies.
Digging into the details, I found, to my astonishment, that 'Abdu'l-Baha in 1905 made statements about the nature of ether diametrically opposing what was then the standard theory. I was even more stunned to learn that many of today's leading physicists embrace the same ether paradigm first described by 'Abdu'l-Baha. (In fact, Einstein himself, in his later years, did so, despite his reputation as the physicist who supposedly "killed ether".)
The "leading physicists" of whom I speak include Leon Lederman, director-emeritus of Fermilab, and MIT's Frank Wilczek, an expert on quarks, cosmology, and superstring theory. Both men are Nobel laureates as well as bestselling authors. Lederman's book The God Particle popularized the Higgs boson. Wilczek's book The Lightness of Being: Mass, Ether, and the Unification of Forces popularized — or perhaps re-popularized — ether itself.
Its theoretical importance aside, the controversy also illustrates important principles about science and religion, faith and reason, revelation and empirical research. My book barely touches on these ramifications: It's first and foremost a window into modern physics. It's better that the facts speak for themselves.
Did I mention my journalistic fondness for scoops? Since I first made public these findings in 1993, there has been an explosion of interest in ether, its history, its current standing, and its future. What becomes increasingly apparent is that it was 'Abdu'l-Baha who, in 1905, scooped His expert contemporaries.
Extra! Extra! Read all about it!