I'm crazy in love with a WordPress theme called Weaver II.
Maybe tomorrow I'll find a new love. Web fashions are fickle! But I've played the field long enough to know that Weaver II is extraordinary. Let me explain: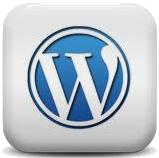 As a web designer, I'm partial to WordPress: It's simply the easiest way to build a killer website.
And the first thing you must choose, after installing WordPress software on your self-hosted site, is your WordPress theme: a package of design instructions that determine your site's overall structure and appearance.
You can choose (as most folks do) from the thousands of excellent free themes in the official WordPress.org theme repository. You can buy a prepackaged "premium" theme. Heck, if you're a programmer, you can build your own using HTML, CSS, PHP, C++, Javascript, and lots of other little skills. Or you can stick with the WordPress default. Any which way, you'll need a theme.
You can customize most any theme — sometimes within strict limits. Lots of web authorities say you shouldn't spend much time customizing: It's more efficient (they argue) to spend your energy finding a theme that already matches the look you want.
I think this advice is dead wrong. Far better, in my view, to find and master a theme — or a small arsenal of themes — that you can easily customize. Blank canvasses you can paint on. This places you in complete control. It lets you bend your site to your will, instead of twisting to fit into your theme.
But themes that really, really excel at customization are rare. I've worked with some of the best. Suffusion. Atahualpa. Graphene. Love them all! I used Atahualpa for my Astonished Tamale! blog; Graphene, for the Washington Baha'i History Museum and my Stonehaven Press e-commerce site.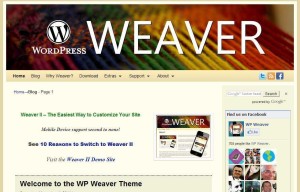 For this site, GaryMatthews.com, I started out with Graphene, then switched midway to Weaver II. On the Weaver website — weavertheme.com — you'll find "10 Reasons to Switch to Weaver II". Reading them over, I realized I can easily name 10 more. So I'm going to do just that.
But first, for context, here are the 10 "official" reasons listed on the Weaver site:
Integrated mobile device support
Totally customizable
Great for newcomers to WordPress
Great for advanced web designers
Real help files
Active user community and help forum
Integrated shortcodes and widgets
Support for the latest WordPress features
Flexible layouts
Weaver II PRO
Good reasons all. Here's my extended list:

1. Bruce Wampler, developer of Weaver II, is no ordinary software engineer. He's done cutting-edge work since the late Seventies (i.e., before many of today's WordPress mavens were born). In 1985 he founded Reference Software, where he was principal author of a widely known grammar checker called Grammatik. The latter is still part of the WordPerfect word-processing suite. I've used both products for more than 20 years, and continue to do so. (WordPerfect bought Reference Software in 1992.)
Since first trying Grammatik, I've felt it could only have come from a quirky, daring genius. Imagine how pleased I was to learn that my new favorite theme springs from the same source!
Grammatik shows its author's love for simplicity, for clarity, for elegance of expression. And guess what? All these are qualities one wants in the designer of one's WordPress theme. They show, at every turn, in every subtle nuance, of Weaver II.
2. Weaver straddles the line between a theme and a framework. A WordPress "framework" is a kind of super-theme, serving as a foundation for child themes that flesh out its details. Some, like the Genesis framework, cost money. Others, like Thematic or Atahualpa, are free. The frameworks I've studied seem fairly bland until they're properly spruced up. Sometimes this entails a lot of coding and debugging. Other times, it involves shelling out more money. Or both.
Unlike more formal frameworks, Weaver II is beautiful, right out of the box. But it comes with more than two dozen built-in sub-themes. Each of these utterly changes its look with one mouse-click. While they all are nifty, what I find most satisfying is their stunning variety. Most differ so greatly from one another that you'd never guess they are built on the same underlying architecture.
3. Weaver II straddles the line between a theme and a plug-in. A WordPress "plug-in" is utility software that installs into WordPress to add some desired feature — say, a contact form, a scrolling slideshow, or new editing functions. WordPress runs on plug-ins. There are thousands upon thousands.
Problem is, many plug-ins conflict with one another, or with the site's theme, or with some recent WordPress update. Sometimes this happens because the plug-in author abandons it. Too many plug-ins — even when they play well together — can slow down your site. So it's important to strictly minimize and monitor their use, holding the number of plug-ins to a reasonable minimum.
Weaver II, to my delight, provides numerous features for which I used to need plug-ins. For example, I used to use a plug-in to include/exclude certain postings from the standard article stream. The Weaver II "Page with Posts" feature does this better than the old plug-in which I've since uninstalled. Multiple text columns? Video playback? Weaver II's got you covered. Ditto the plug-in I formerly used for taming the WordPress visual editor (which can garble text one enters in HTML "code view".) Weaver II takes care of this, along with many other needs.
4. You can see how he does it. While you can change most elements of Weaver II using easy check-boxes and color-pickers, many of its sub-themes rely on CSS style codes. Under most frameworks, these remain hidden. To get at them, you need code editors and file-transfer software — plus, one misstep can crash your whole website. In Weaver II, you see precisely which elements get which codes, what the codes are, and how to tweak them without leaving the control panel. (But if you make a mistake, Weaver II just ignores it; your site remains safe.)
This makes Weaver II a terrific learning lab. You don't need to know web code to make this thing sing and dance. But since you're really watching Bruce at work, you pick up some skills by sheer osmosis. Once you start to experiment, you'll watch boxes change size, borders and shadows grow or shrink, fonts and formats shift. The terminology slowly sinks in. It reminds me of those wonderful "Try It Yourself" panels in the online courses at W3Schools.com.
5. Weaver II has the best save-and-restore feature I've seen. The better themes all let you export theme settings, so you can restore these after a crash or upgrade, or transfer them to a different site. Weaver II has a particularly smooth and intuitive way of doing this. It also lets you choose — you can export only those settings that are strictly theme-related, or include your broader WordPress settings as well.
Possibilities are endless: For example, you can deck your site with patriotic colors just for Independence Day, then switch back to your normal look for other days. Or conduct wild design experiments on a hidden test site, only moving them to your "real" site after you are completely satisfied.
6. Weaver II's countless options are laid out so you can actually find them. There are other themes with lots of options. Maybe not as many options as Weaver II, but still, sometimes a lot. But in working with these themes, I've often been bewildered searching for a setting I knew was there, but couldn't find. Worse yet, searching for one I felt should be present, but wasn't. When and if I did find it, I'd wonder: "Why is that over here? Would it not make better sense to have this setting under this other heading?"
With Weaver II, the settings almost always are right where you'd expect, using tabbed pages, and in the most logical order. Navigating this landscape proved, for me, to be very comfortable.
Funny story: Last May (2012), the web-design blog WPCandy posted a long, scrolling "screenshot" of the Weaver II options pages. Click here to view the image, then — for some great laughs — scroll down to read the comments. Several professional web developers — including some I otherwise admire — ridicule what they consider excessive user choice. (What's the point of being a web-design pro if anyone can do it?) Eventually, Bruce himself shows up to explain the Weaver II philosophy, and why its user base loves it. He also notes that a good half of that user base consists of professional web designers.
7. The free version of Weaver II does more — far more — than most paid themes. Yes, there's a "pro" version of Weaver II — $29.95 for personal use, $49.95 for developer use on client sites. And no, I don't get an affiliate commission! Just as well, because my point is that most users won't need the paid version: The free Weaver II is not a dumbed-down, hobbled caricature designed to make you buy the "real thing". It's a serious tool for serious work by serious WordPress users. It has an amazingly complete and robust feature set that includes many of the theme's most delicious goodies.
That said — the Pro version does pack in even more great features, like full theme-backed use of all Google Webfonts. So you can customize any text element of any site with nearly 500 great fonts. And while you may never need it, the price still makes it a steal.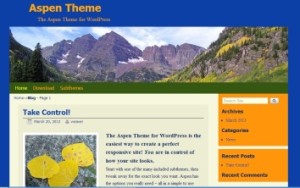 8. Simple as it is to use, Weaver II now has an even simpler variant: Bruce's new Aspen theme. Check it out at AspenTheme.com. Aspen is a leaner, streamlined version of Weaver II — but again, it isn't dumbed-down. It serves up a subset of Weaver II's most useful, in-demand features, and amazing control over your website. (Full disclosure: I haven't yet test-driven Aspen. But hey, this is Bruce we're talking about, right?)
9. Weaver II is now WooCommerce compatible. Before, I mentioned minimizing plug-ins. If you build e-commerce storefronts like I do, one accessory you probably need is a "shopping cart" plug-in. My favorite e-commerce/shopping cart software is WooCommerce, for tons of reasons. Unfortunately, it doesn't play well with a great many themes. (There are, of course, commercial WooThemes designed just for it.) WooCommerce is particularly hard to shoehorn into the theme that used to be my favorite (before Weaver II).
I was thus delighted by Bruce's announcement, just the other day, of Weaver II version 1.3.2, designed specifically for a good fit with WooCommerce. Congratulations, Bruce: This will accelerate developer acceptance of Weaver II and Weaver II Pro.
10. Weaver II has the best "demo" sites I've ever seen. Check out the main demo site here. Then enjoy the demo site for user contributed sub-themes. Click on any sub-theme name in the sidebar, and the whole site will change to a new look. (In fact, this ability to let visitors choose what your site should look like is among Weaver's more exotic features: Try that with any other theme!)
Have you used Weaver II or another WordPress theme you'd like to comment on? Please click "Leave a Reply" to join the conversaion!