If your name is still available as an Internet "domain name", buy it now. Ditto your children's names. Here's a recent article where I explain why.
As I say there, it costs peanuts to take ownership of your web-name: GaryMatthews.com, PeterFlipsen.com, or whatever yours would be. And I stress — again — that you should do this even if you're never going to have a website.
A key reason being email.
Once you've bought your Internet name, it costs nothing extra to use it for email: You@YourName.com. So even if the domain name isn't (quite) free, the email address is.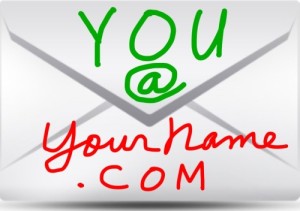 And this remains true — or at least, it can be true — even if you don't have a website.
Better yet, if you grab your domain name now, the associated email address should remain free, forever. If you wait, it may cost you.
Looking for Free
Even after you buy your own name, it's getting harder to use it for email as a no-extra-charge add-on. If, for example, you register your web domain at GoDaddy.com, GoDaddy will then try to sell you all sorts of extra services, including email. The latter is currently around $3 a month. (Ignore their pitches.)
Google — via Google Apps — used to let you to connect your domain for free to a Gmail account. That is, you'd have a Gmail account labeled "You@YourName.com" rather than "YourName@Gmail.com". This didn't cost anything extra.
But recently, Google has started charging for this service. Using a custom-domain email address with Gmail now costs $5 per month. (My impression is that the service remains free if you have an older account that was set up before the price hike.)
UPDATE: This post originally reported that Microsoft, through its Outlook email service, allowed free use of a custom domain. That was true when written. But Microsoft has since joined Google in charging for email unless you use the "outlook.com" brand (or "hotmail.com", as it used to be called).
Google, GoDaddy, Microsoft, and lots of other companies can charge you because a custom address is immensely valuable. And their prices for this add-on seem reasonable enough. Just not free!
Who's left in the free corner? Zoho, for one!
Yes, Zoho.com still lets you use a custom domain for free. That is, register YourName.com at GoDaddy or NameCheap or any other registrar — and then Zoho, at no charge, lets you send and receive mail using You@YourName.com.
(Don't take this literally, by the way. It's only an example. I just checked and discovered that "YourName.com" already is registered as a domain name. The point is to get and use your own.)
You'll find simple instructions on the Zoho.com website. The process is fairly simple: You will need to edit the DNS file at your domain registrar to point to Zoho's mail-exchange servers. Zoho gives easy, illustrated step-by-step instructions for all the major registrars.
An even easier approach would be simply to purchase the domain using Zoho itself as your registrar. (Or transfer it to Zoho from the original registrar.) Then, Zoho itself automatically does the setup, and you can start using your Zoho email without editing any settings.
If you do a web-search for "free email on custom domain", or something similar, you should find options. But as long as Zoho stays free, you're covered.
Already have web-mail you love? Gmail? Yahoo? Hotmail? No problem. Once you set up a functioning, free email account under your custom domain, simply forward incoming mail to your "regular" account. (And with most of the bigger web-mail providers, you can configure them to show your custom domain as the "reply-to" address for outgoing messages. It's called an alias.)
Why Have Your Own Email Domain?
Why go to this trouble? Isn't it simpler just to go with Gmail or some other free service?
Well, let's say I'm a tax attorney, and you're shopping for one. I hand you a business card that includes my email address. Which would you trust more: GaryMatthews(at)Yahoo.com? Or Gary(at)GaryMatthews.com?
The first address says, "Probably I'm not all that successful, since I rely on free services owned by somebody else. Not only could I be anyone — I could disappear at any time."
The second address says, "I have my own space on the Internet — a domain where I'm in charge. I have a reputation to uphold. I know what I'm doing, and I'm in it for the long haul. You'll always know where to find me."
It isn't just self-employed professionals who need a custom email address at their own web-domain. You need this if you're a student (even in elementary school). You need it if you're a blue-collar worker at a factory. You need it if you're an office temporary. You need it if you're a stay-at-home mom running a household.
Unless you're one of those rare souls who doesn't have, and would never need, email, I can't think of anyone who wouldn't benefit from a custom email address.
As I pointed out in my previous article, once you own your domain, you aren't limited to one email address. You can create as many as you like. With forwarding, you can route them all through your "main" email account, even if that's simply a Gmail account. (That's what I do.)
As I also noted, it's possible your name is no longer available. If it's a common name, this isn't just possible — it's probable. Lots of the good ones already are taken. But yours may not be.
You can check with a search box at any domain registrar. The oldest, and still one of the best-known, is NetworkSolutions. They aren't my registrar, being too expensive for my taste. But I like their search interface for domains, and often check names here.
If you can't get your first choice, it still makes sense to get the closest version you can. Maybe with a hyphen or a title or other tweak. Maybe with a lesser extension — dot-ORG or dot-NET instead of dot-com. (But get the dot-com version if you can; it's still by far the preferred choice.)
And please remember: There are thousands of Internet entrepreneurs buying up common web-names by the truckload. They're planning to sell you your name at a steep price, after you discover how important this is. If your name still is available as a domain, grab it now, before someone else does.
As I stated in the previous article, I can help you — at no charge — if you find the process daunting. Contact me through this site's contact page, and we'll discuss your options.
Do you own your own web domain? What was your experience? What frustrations can you help other readers avoid? Please leave your thoughts in the comment box at the end of this article.