I almost didn't notice!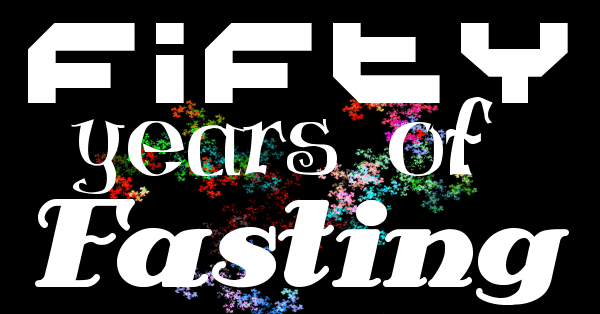 This year (2014) is the fiftieth year I've participated in the annual 19-day Fast for members of the Baha'i Faith.
The milestone nearly slipped past me. The Fast spans March 2-20, and it was just yesterday — the 16th — that I did the math and realized it's now fifty years.
For me. I was 15 when I enrolled as a Baha'i, and my first Fast was at age 16. It's a practice observed worldwide by Baha'is ages 15-69. Having just turned 65 this month, it has been, for me, exactly half a century.
A Spiritual Celebration
The Baha'i Fast is similar, in some ways, to the Muslim Fast of Ramadan, but shorter. It means abstaining from food and liquid from sunup to sunset. There are exemptions for Baha'is who are (among other things) ill, traveling, pregnant, nursing, menstruating, performing heavy labor, and the like.
For Baha'is, the Fast is a spiritual celebration, a time of joyous prayer and meditation. It helps teach abstinence and self-discipline. Although research shows that this type of fasting has physical benefits (http://en.wikipedia.org/wiki/Fasting), its main motivation is spiritual.
People who've never fasted often are amazed: "I could never do that!" Sure you could. Millions of Baha'is do it worldwide. The similar fast of Ramadan spans nearly 28-30 days for Muslims. I'm even more in awe of the millions (billions?) of Christians who scrupulously observe Lent, which this year is March 5-April 19.
I read where Matt Mullenweg, founder of WordPress, is giving up his smartphone this year throughout Lent. That's a lot tougher: I could never do that! (What am I saying? Of course I could — I didn't even own one till a couple of years ago. But still…)
During the Fast, I eat a light, pre-dawn breakfast and, after sundown, a normal dinner. In between I'm rarely hungry or thirsty — though many of my Baha'i friends report that they are. With practice, your body adjusts and the whole thing becomes fairly effortless.
Doesn't it bother you (I'm sometimes asked) to be around other people who aren't fasting? No, not in the slightest. Maybe that, too, is practice; I don't remember.
A Valuable Learning Experience
When I was fasting in high school, I had to go to the cafeteria for lunch period, like everyone else. Naturally the other kids noticed I wasn't eating, and being kids, they gleefully teased me by passing french fries and chocolate pie and other goodies back and forth under my nose. In self-defense, my only choice was to laugh and pretend I wasn't feeling any temptation.
This taught me a valuable lesson: When we act as if we're immune to temptation, we become immune to it! Or at least, we become far less susceptible. In my household, I'm responsible for at least half the cooking, and I whip up insanely delicious, aromatic meals with rarely a twinge. (My wife, Cheri, is this year, for the first time, past the age of fasting. Thus we're no longer on the same schedule.)
There's another kind of fasting I also (sometimes) practice. This one has nothing whatsoever to do with my being a Baha'i, and it isn't spiritually motivated: It's a health regimen: Sometimes I'll do a one-day-a-week water fast. This one I find much, much harder than the daylight-only Baha'i Fast.
The water fast serves as a kind of reset button for the body. Among other benefits, it helps me lose weight or keep it off. (The Baha'i Fast doesn't.) Naturally, I don't combine the two.
Have you ever fasted? Might you consider it? Please share your thoughts and experiences in the comments.