Cheri and I are thrilled to be reading the newly released novel from our friend Phyllis Edgerly Ring.
It's called The Munich Girl: A Novel of the Legacies That Outlast War.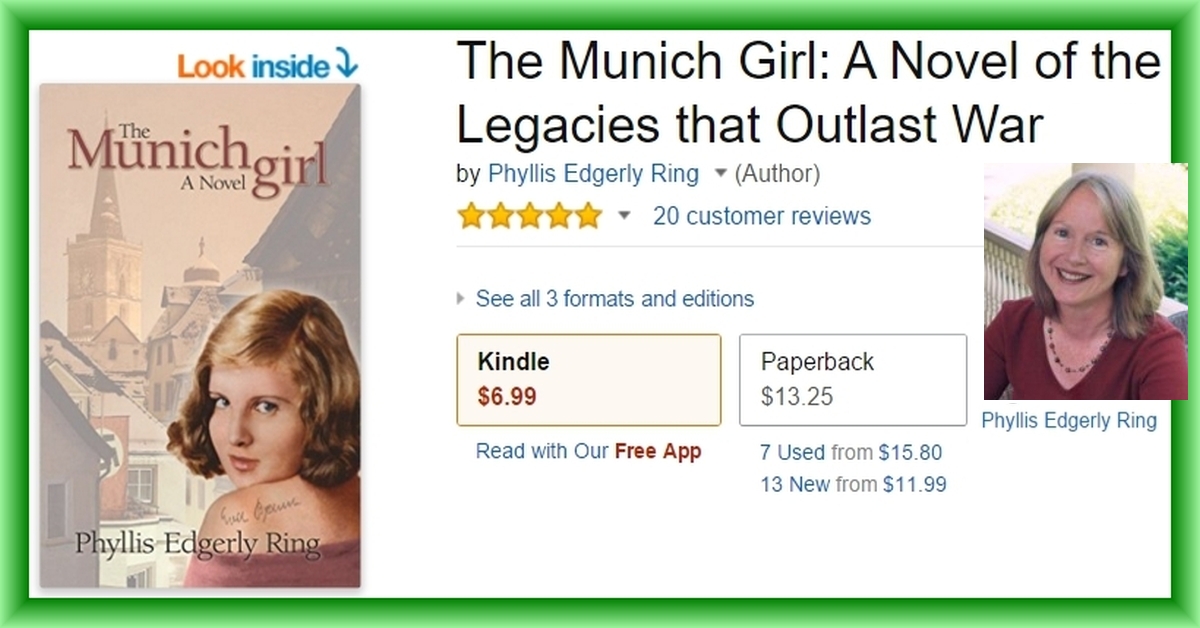 Not yet too far along, but already loving it. (I'll post an update here when I'm finished.)
Normally I don't mention new books – even by writers I admire, as I do Phyllis – till I'm done. Here I'll make an exception for several reasons:
(1) The Munich Girl is getting rave reviews, on Amazon and off. (Nearly all the Amazon reviews give five-stars, with none lower than four.) (2) It already has rocketed onto several of Amazon's coveted Top 100 lists. (3) I've read plenty of Phyllis's other stuff, and it's uniformly stellar. (4) The premise here is riveting, and Phyllis strikes me as the ideal author to do it justice. (Plus a fifth reason I'll explain below.)
The story begins with Anna Dahlberg who, 50 years after World War II, learns her mother had been friends with Eva Braun, the mysterious mistress of Adolph Hitler. From the online summary:
"Plunged into the world of the 'ordinary' Munich girl who was her mother's confidante—and a tyrant's lover—Anna finds her every belief about right and wrong challenged. … she retraces the path of two women who met as teenagers, shared a friendship that spanned the years that Eva Braun was Hitler's mistress, yet never knew that the men they loved had opposing ambitions.
"Eva's story reveals that she never joined the Nazi party, had Jewish friends, and was credited at the Nuremberg Trials with saving 35,000 Allied lives. As Anna's journey leads back through the treacherous years in wartime Germany, it uncovers long-buried secrets and unknown reaches of her heart to reveal the enduring power of love in the legacies that always outlast war."
To learn more about The Munich Girl – as well as past and future works by this rising-star author – you can visit Phyllis's blog, "Leaf of the Tree (Finding the Divine in the Details)": https://phyllisedgerlyring.wordpress.com/. (If you sign up for her newsletter – as I'd recommend – her updates will appear right in your email inbox.)
About that fifth reason: I couldn't wait to share what I learned by playing around with the letters of our friend's name, "Phyllis Edgerly Ring".
What I found is that pretty much all the resulting anagrams refer in some way to the craft of writing, and also contain variations of the word "girl". In other words, Phyllis's very name not only predicts her career as a novelist – it even hints at the title of her breakout work!
Dig out those Scrabble blocks and see for yourself: The letters in "Phyllis Edgerly Ring" shuffle around to spell:
• "Hey! Dry spelling girl";
• "Girlishly dry gel-pen";
• "I, slender girly glyph";
• "Hell! Girly gipsy nerd";
• "Hey! Spell girly grind".
What's happening here? Is it true, as some believe, that anagrams predict the future? Did mystic forces hidden in her name propel Phyllis along her predestined path to stardom? Was I perhaps influenced, in my choice of letter combinations, by what I already knew about her? (It didn't feel that way, but how could I be sure?)
Point is, The Munich Girl is a great place to look, if you're looking for a great book to read. And it isn't too soon to start anticipating Phyllis's next novel.