Someone once predicted that automatic doors would never catch on.
Oh, yeah, that someone was me.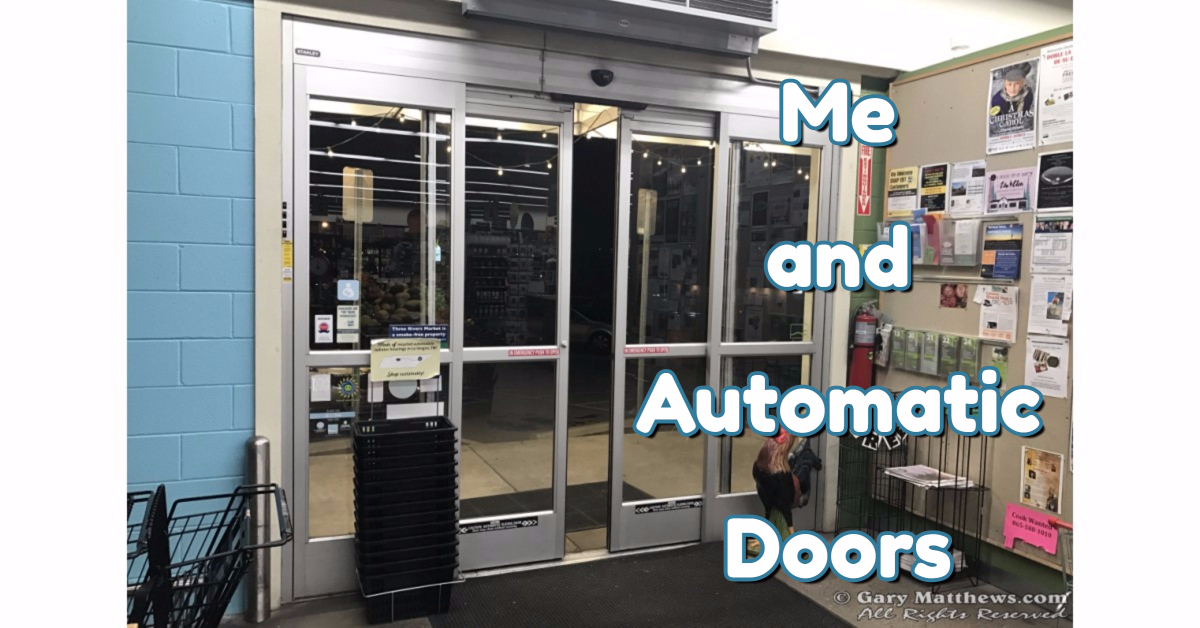 It just proves how awful is my track record as a predictor of trends and technology.
I don't recall where or when I saw my first automatic sliding door. Hospital? Library? Grocery store?
Being a kid, though, I remember the feeling of wonder it evoked. Magic! I thought of Ali Baba's cave and the "open sesame" command that allowed ingress.
That's when my skepticism kicked in. How well I recall thinking (and possibly saying aloud) that the trick would never be practical.
A fun gimmick? Sure, but to me it seemed there were way too many moving parts. Too many gears to rust, connectors to corrode, circuits to short. Pebbles would get into the tracks and derail a wheel. Dead bugs would gum up the delicate innards. Repairs would cost more than the door itself.
How wrong I was! Since that moment, I've walked through thousands of automatic sliding doors. There are some buildings where I've used the same magic portal for decades with nary a hitch.
Only once have I seen such a door needing repair. In that single incident, the technician casually lifted the door back into its groove, from which it never again strayed.
Automatic doors are only one among many predictions — social, historical, technical — of mine that have crashed and burned. I haven't always been wrong. But sometimes it seems I'd have done better by throwing darts.
For human use, the first automatic sliding door was invented in 1954. The first real-world installation, based on a mat actuator, came in 1960. That's the year I turned 11, but of course I probably was older during the encounter I've described.
My horrendously bad track record as a seer isn't entirely on account of curmudgeonly pessimism. Everyone (I once assumed) would eventually share my enthusiasm for sporks. I figured Google Glass, or something similar, would quickly conquer the world. And I believed that the best human chess player would always best the most advanced chess computer.
Hmm. Is that last example a case of optimism or pessimism? Maybe a bit of both.
How about you? Have you ever made a dogmatic prediction that came up embarrassingly short? Or that proved spookily prescient? Please leave your own story in the comments.