You've written a wildly popular post on Google Plus. People are talking. Lots of reshares, including some by social-media heavyweights whose followers greatly outnumber yours.
You shared it first, perhaps, as a link to your blog, with a terse summary. You shared it again as a standalone article, with a great cover photo. Again with a different photo, different headline, and changed emphasis, for variety. Plus a couple of community shares, each suitably adapted. All versions widely reshared — and commented.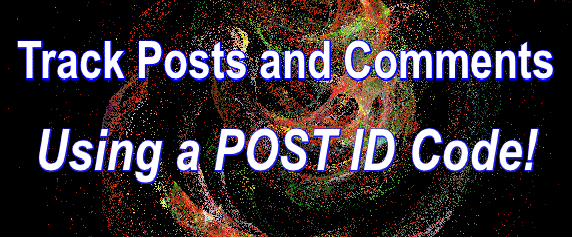 If you're like me, there's nothing so satisfying as the conversation emerging from those reshares and comments. There is, however, a problem:
Let's say your post evokes hundreds of responses, some more valuable than anything in the post itself. Too bad they're scattered across Google Plus, where no one can see them all or get their full impact.
What if you could conjure up one page that would track posts and post comments, including all reshares, displaying them side by side? What if you could link to that page from your blog, from other G+ posts, even from other comments? Wouldn't that be awesome?
Well, you can, and it's easy. Before we discuss how, here's an example of what that could look like: http://goo.gl/1naJLP. (That's a link to collected comments on my post series about what happens eventually to Facebook photos.)

To collect and track your posts/comments this way, do this:
Use a Post ID
Start by including, in the text of each post, a unique "Post ID". Something like a serial number .The crazier the better — perhaps something like IA3.a6ie8%3o1!e45y01. Work out your own system. One way might be to generate the ID codes with a password generator.
So long as that Post ID is in your original post, it will be in each reshare. If you create alternate versions, include the same Post ID in each of those. Then let them spread. Let the conversations unfold.
Create a Search-Results Page
When you're ready, go to the Google+ search field at the top of your profile or home page. (Please note — you're doing a Google Plus search, not a normal Google search.) Enter your search terms in this format:
+"Gary Matthews" +IA3.a6ie8%3o1!e45y01
Keep the plus signs and quotation marks. Naturally, substitute your own G+ profile name, and your unique Post ID.
Like magic, a search-results page will appear bearing every version of your post, every share and reshare — each followed by all the comments. Anyone browsing this page will be able to scan any or all of the conversations, joining them at will!
Get a Shortened Link
But how might you link to that page, so you can share it without asking readers to enter the same search terms?
That, too, is easy: Simply place your cursor in the page's address bar, and copy the link. At this point it will be an extremely long, convoluted link, full of wonky characters. You can solve this problem by running the link through your favorite URL shortener, such as Goo.gl or Bit.ly..
The resulting short URL is easy to share. I'd suggest incorporating that link — as well as the Post ID — into your post text, along with a brief label explaining its purpose. This way, any reader can summon up all the reshares, along with all the other comment threads. Tons of other uses, too!
For example, the Post ID or this article is IA3.a6ie8%3o1!e45y01 and the collected-comments link is http://goo.gl/Q1zqAz.
So please plus, reshare, and comment freely — and watch the conversations weave into a lovely tapestry!