Just saw my first summer fireflies within the past week or two. They come out, here in East Tennessee, sometime in June. Now that July has arrived, so have they, in full force.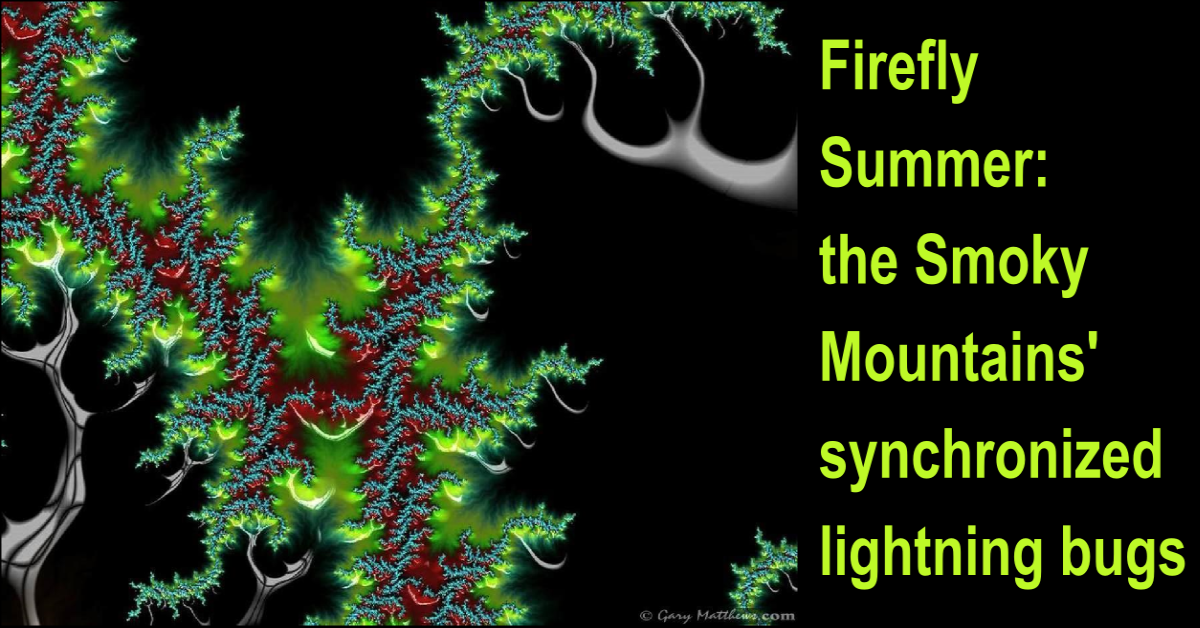 This fractal picture I drew may be stylized, but it does depict the way these beautiful insects cluster around vegetation. In the Caribbean, Cheri and I saw them haloing the tops of palm trees.
They're so fearless and friendly: Who, as a child, hasn't collected them in a bottle — preferably with holes punched in the lid, so they can breathe — to make a firefly lamp?
Our own Smoky Mountains, however, are home to something one doesn't see everywhere. A species so strange that many people, when I tell them about it, refuse to believe me: synchronized fireflies.
A Smokies Tourist Treat
Photinus carolinus is a special breed of firefly found around Elkmont and Cades Cove. The Great Smoky Mountains National Park offers shuttle buses and organized tours so you can see them. I have!
Here's their spooky deal: The males fly around in clusters, seeking receptive females. Over the span of two to four seconds, they emit four to eight very bright flashes, in perfect unison. (Their timing varies with the temperature.) They then remain dark for eight to 12 seconds, during which one or more females may respond with a much dimmer pulse of light.
Any such female will be surrounded at once by perhaps 20 males, all hitting on her chaotically until she makes her choice. She and her lucky suitor then go off and get a room: Firefly motels are cheaply available in Gatlinburg and Pigeon Forge.
A Science Puzzle
Synchronized fireflies have been spotted as far north as Pennsylvania, as well as in Malaysia. That said, they're rare — and there is a mystery: I've read that these very fireflies can be transported in quantity to other places, and released — and they go on strike! They no longer coordinate their blinking.
This behavior baffles the scientists who study bugs: What is it about the Smokies and other habitats that causes the fireflies to sync-blink here — but not elsewhere? They don't know! Or if they've figured it out, I never got the memo.
Another weird truth: A firefly is a kind of beetle!
For more information on synchronized fireflies — or just to make sure I'm not pulling your leg — here's Wikipedia on photinus carolinus.
P.S.: Okay, I was pulling your leg about the motels. Everything else is true!