The word "turmeric" fascinates me.
So, for that matter, does the actual spice — as distinct from the word. Here's the scoop: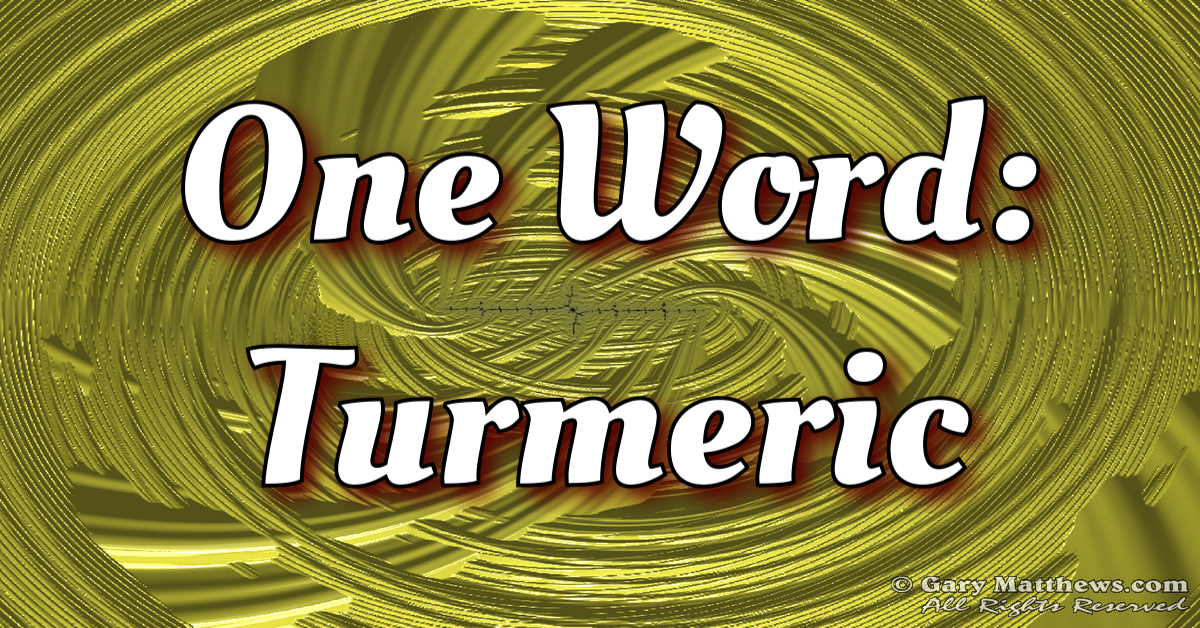 Turmeric powder ranges in color from bright yellow to deep orange. It has a pungent, gingery-peppery flavor and is a main component of curry. Because of its color, it's sometimes called "Indian saffron". (Real saffron tastes completely different and is the most expensive of all spices. Turmeric is relatively cheap!)
I've been more and more adding turmeric to home-cooked dishes. Anything involving rice, lentils, seafood, pasta, poultry, and the like will benefit. Plus, they say it's really, really good for you.
Turmeric contains curcumin, which allegedly fights cancer and lots of other bad stuff. It has antioxidants, trace minerals, and nano-thingamabobbles that run around and scrub your brain cells and blood vessels. Or something like that!
The tRouble with Turmeric
But what really gets me is that first "r" in there. In the word, I mean: There aren't any alphabetical characters in the actual spice! (At least I hope not!)
The word is spelled "TURmeric", with an "r" in the first syllable. But that "r" is silent! The word is almost always pronounced TOOmeric or TYOOmeric, as if the "r" were absent.
That's the part that gets my goat: How can you have a silent "r"? To me, that simply doesn't make sense or feel right. So for years I had been spelling it TUmeric (without the "r").
When Cheri called this mistake to my attention, I assured her (way too smugly) that I was correct. You cannot (I said) have a silent "r" at that point in any word.
But I looked it up, expecting vindication — and danged if Cheri wasn't right: Tʜᴇʀᴇ ɪs ᴀɴ "ʀ"! Most people don't pronounce it, and no dictionary to my knowledge requires that it be pronounced. But it's there.
Turns out there's a language principle involved. It's something called "dissimilation". Not to be confused with the similarly spelled "dissimulation"!
Dissimilation occurs when there are two identical or similar sounds in a word. Over time, these tend to become dissimilar — that is, people start pronouncing them differently. No one is sure why, and perhaps it's technically "wrong". But it happens. In fact, it happens in just about every language. It's one of the ways languages evolve.
A related example is the first "r" in February, which nearly all of us ignore. (I say FebYOOary. Do you?) Or the first "d" in Wednesday, which we pronounce WINSday. (I've never heard anyone say WEDness-day.)
These and countless other examples still jangle me. I first learned to read and spell phonetically — and darn it, I want language to ʙᴇ phonetic! Usually, it is. But not always. (Sigh!)
Still, it's a good day whenever I learn, all in the same day:
✦ a new word (in this case, dissimilation);
✦ the correct spelling of an old and familiar word (turmeric);
✦ don't think too much about it — just enjoy language; and
✦ Cheri is usually right!
(This article is part of my series on words that are #worth1000pictures.)