For the juiciest, tastiest, tenderest turkey you'll ever enjoy — bake it in a crock-pot! Here's how.
Cheri and I taught ourselves this trick, this past Thanksgiving. We acted on pure impulse. Nothing wrong with turkeys we've baked before, for ourselves and family. But we were in a mood for something more.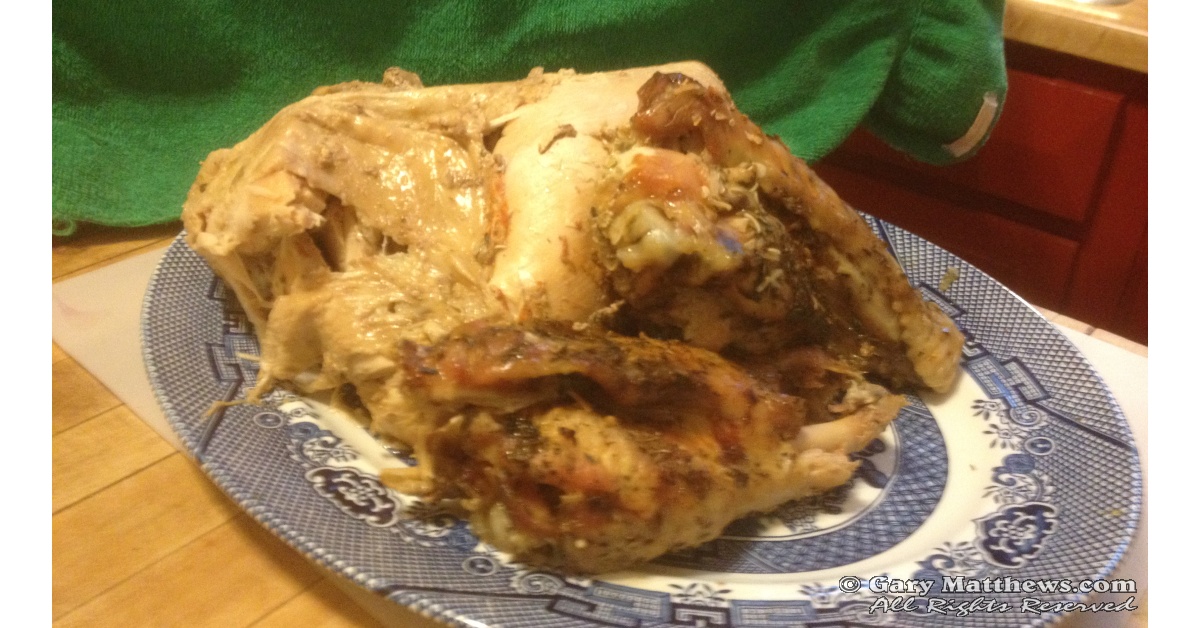 We ransacked the Internet for turkey recipes. Tons of tips on deep-frying, oven-basting, and other traditional methods. Slow-cooking hadn't occurred to us, and it wasn't mentioned in any recipe we found online. (Turns out the Internet is littered with such recipes, but you only find them by specifying "slow cooking" or "crock-pot" in your search terms.)
Turning toward each other, we said in unison, "Hey, why don't we try the crock-pot?" We have a huge, oval-shaped model in addition to several smaller ones.
Huge pot or not, our first concern was whether our 13-pound bird would fit.
It didn't. We surgically removed the leg quarters and tried again. No go. We removed the wings as well. Still didn't fit.
Finally, we used a knife and kitchen shears to cut loose most of the backbone, then snap it out using a move we'd seen on an old Julia Child video. This allowed us to compress the interior, from which we had (of course) removed the neck and giblets. Cheri had already boiled these to create a zesty seasoned broth.
Now the turkey fit into the cooker, along with one leg and a wing. We set up a second crock-pot for the remaining wing, leg, and backbone. Cheri and I think the back meat is some of the best from any bird. We're not sure why more folks don't agree.
We poured some of our prepared turkey broth into the pots, then added aromatics and spices. Whole garlic cloves, onion and lemon chunks, and generous sprinklings of basil, savory, thyme, oregano, turmeric, smoked paprika, and lemon-pepper Mrs. Dash. (We may have drizzled in some soy sauce and toasted sesame oil; I forget.)
Turning on our slow cookers to "low", we let the turkey roast, overnight, for 12 hours.
Taking it out, we realized at once that this wasn't like other turkeys we'd cooked. A couple of bones fell out of the breast section as we lifted it onto a platter. Chunks of meat fell off the skeletal structure that stayed inside. It was that tender!
We sliced up the more cohesive sections, nibbling as we went. "Taste explosion" is a phrase that comes to mind: The spicy aromatics had permeated even the deepest breast meat, as had the broth.
I can't exactly say we "carved" the turkey in traditional style. It was too flaky. The collagen that normally binds muscle fibers had melted, so we ended up with oddly shaped pieces of white and dark meat. With taste like that, who cares?
Although some of the skin was richly caramelized, none was crisp. That's one price you pay for crock-pot cooking. No problem! We pulled off the skin and toasted it under a broiler, taking care not to burn any. We then had crisp, beautifully browned skin to serve as a side treat.
Did we dine well this Thanksgiving? You bet! We normally bake turkey once a year, serving and sharing it throughout the winter holidays. Often we have leftovers for sandwiches and camping meals.
Suffice it to say that this bird, leftovers and all, is vanishing faster than usual. Don't be surprised if we do some out-of-season ones as well. Year-round turkey is sounding better and better.
Later, as noted above, we found plenty of recipes online for slow-cooked turkey. Some suggest cooking it on high for two hours, then on low for four to six hours. Many others recommend the 12-hour low-heat procedure we found by ourselves.
The beauty of slow cooking is, there's almost no way to screw it up!
With Christmas and New Year coming up, there's still plenty of time to tackle your own crock-pot turkey. If you decide to slow cook yours (or if you've done this in the past), please let us know how it works out!