A favorite quote of mine, from the 1993 movie Grumpy Old Men:
"The first ninety years or so, they go by pretty fast … Then one day you wake up and you realize that you're not eighty-one anymore." – Burgess Meredith
These words are spoken in the movie by the "Grandpa Gustafson" character (Meredith). I discovered you can rearrange the letters in bold above to spell:
"The grim truth debases: Youth is wasted on the merry young! Life (a thief to any dozy teenager) sneaks up on you by one petty year, or hoary eternity."
Here's a video anagram I made that shows the letters actually rearranging themselves: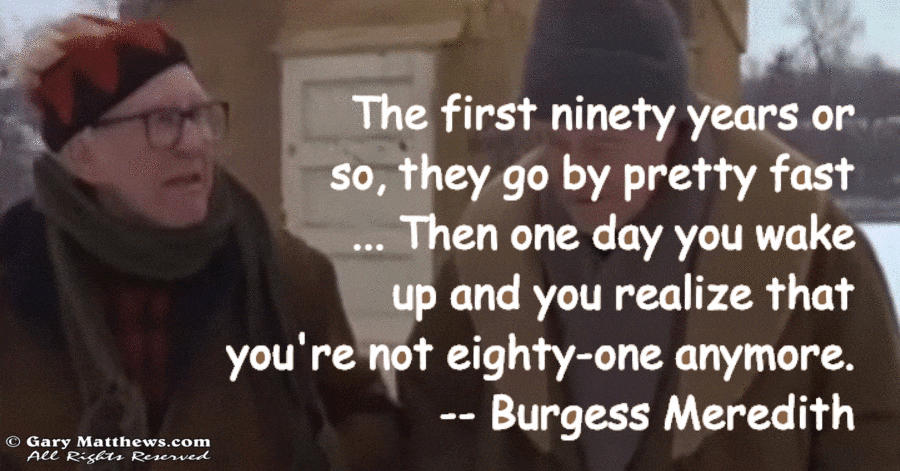 Okay, technically this is an animated GIF image. If you're viewing this by email, you may have to click the image in order to animate the letters. (Many email programs, such as Gmail, display this automatically.) If you're viewing on the web, the animation should work fine.
Please let me know how it works!
Besides show-stealer Burgess Meredith, the movie's stellar cast included Jack Lemmon, Walter Matthau, Ann-Margret, Daryl Hannah, and Ossie Davis. There was a sequel (Grumpier Old Men) featuring the original cast plus Sophia Loren. The older and grumpier I get, the more I appreciate both films.
Special thanks to Christopher Davis (@TweakYourPC) for pushing me to make ever-longer anagrams. This one, at 116 characters, extends far beyond anything I ever thought I'd find myself doing. (Chris, anagram god that he is, makes longer ones all the time. If we believe him — and I do — he's made an anagram of Lincoln's entire Gettysburg Address. Maybe one of these days, if he ever stops tinkering with it, he'll actually publish it.)