I can't let 2016 escape without noting that this was the year Cheri and I celebrated our 30th anniversary.
Three adventure-filled decades ago, we committed ourselves to making our union "as a fortress for well-being and salvation". That's how Baha'u'llah describes it in the Prayer for Marriage. That, for us, has been the way it felt and functioned.
Someday I'll write the eventful story of our increasingly joyful – and unfinished – journey. For now, let me honor the milestone as I so often do – with anagrams:
The letters in
"Cheri and Gary Matthews"
rearrange to spell
✦ "Steady reaching warmth"
✦ "Dreamy watching hearts"
✦ "Swarthy teaching dream"
Just in case you think I'm making this up – you're right! I am making it up. But it's true anyway. Here's a video image to prove it. See for yourself how the letters reshuffle, right before your eyes. (Then read or scroll to the end, where I've posted an alternate animated image.)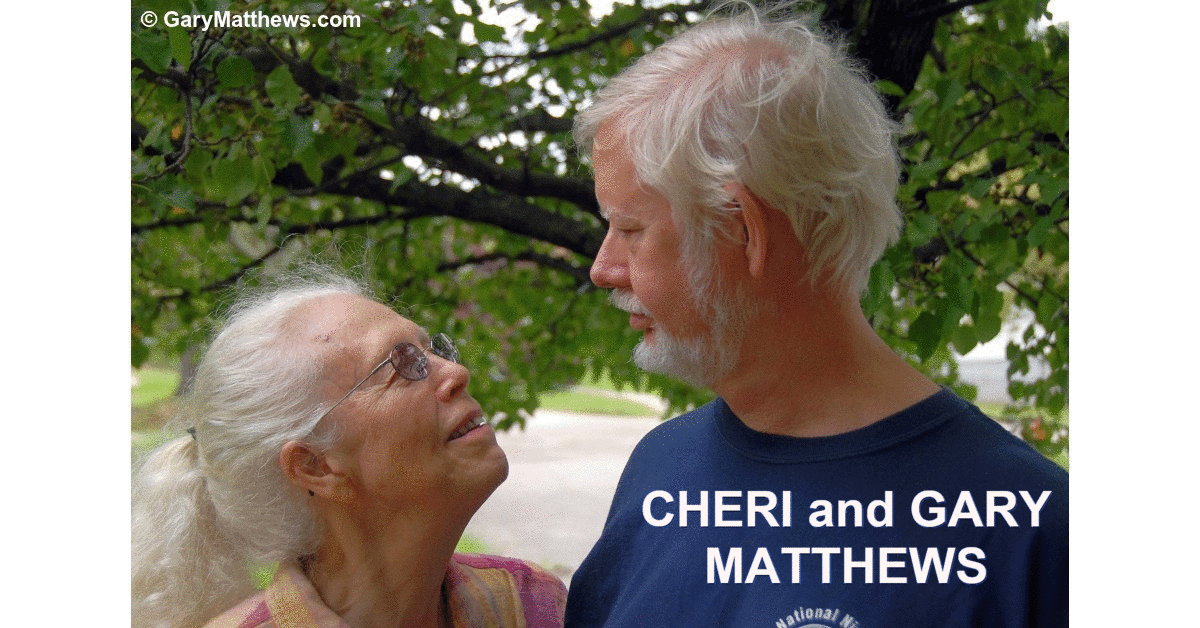 If you don't see the letters arranging themselves into the anagram phrases, simply click the image. It should animate fine if you're viewing this on the web, but a few email clients may not yet support GIF images.
Our actual anniversary is July 12. (We were married in 1986.) Why didn't we make a big deal of it at that time?
Well, we did make a big deal of it five years ago, on our 25th anniversary. At least 80 people joined the festivities in our home. We renewed our vows. We partied, reminisced, commemorated a quarter-century of growth and happiness.
This year, we decided to turn inward, marking the milestone privately.
The point became moot when, on July 7 (five days ahead of the big day), Cheri fell and broke her left shoulder. (Please don't worry: The break healed cleanly, and at least as rapidly as her doctors could have hoped – maybe faster. She commands impressive bounce-back powers.)
Events thus left us to celebrate by ourselves on our anniversary. For us, "by ourselves" is the polar opposite of "all alone". Being with one another is just about the least alone we can imagine.
It's sobering to realize that some of the folks reading this were there, 30 years ago, at our wedding. If you were, thanks for being there. If not, thanks for joining us along the way.
It's been glorious fun. Looking ahead, we plan on making life even more fun! Stay tuned.
—————————–
EDIT: In a congratulatory Twitter response, Christopher Davis (@TweakYourPC) commented:
"They flex new theist jingle, unity".
Huh? I figured this was another anagram. But manifestly, it wasn't an anagram of our names: The "j" and the "x" (among other clues) were dead giveaways.  Knowing that Chris likes to pose anagram puzzles, I tried to figure out what it was an anagram of.
With no luck! When I cried "Uncle!" Chris revealed that the phrase is a rearrangement of our anniversary date:
"July twelfth, nineteen eighty six."