Brighten your social-media posts with fancy fonts and special characters!
Like this: ℱᗩﬡᙅᎩ ℱOﬡ☂ᔕ and ϟ℘ℯ¢ḯαł ℭнαґα¢☂εґṧ.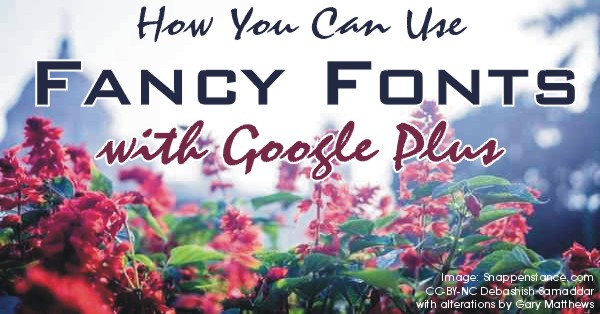 As ever-more publishing migrates to social platforms like Facebook and Google Plus, the apparent lack of formatting options becomes confining indeed.
On Facebook we have essentially none. Google Plus users are lucky: There we at least have boldface, italic, and strikethrough formatting. But what if we want Sᴍᴀʟʟ Cᴀᴘɪᴛᴀʟs or u̲n̲d̲e̲r̲l̲i̲n̲e̲s̲?
Well, we now have them! Thanks to a website I've only recently discovered, and am still exploring: FSymbols.com.
What's in a Name?
I have no idea how popular the FSymbols site is on Facebook or other social media. That's because I mostly move around in Google Plus — and there, I'd never heard of it. Why not? Possibly because the site itself is very upfront about the meaning of its name: "FSymbols" means Facebook Symbols.
For Google loyalists, this is a distinct put-off. Demian Farnworth is famous for the first (and last) of his 10 rules of Google Plus: "We hate Facebook!" (We don't really, but it sure can feel that way.)
FSymbols.com was launched at a time when Facebook was considered "the" social network.
In fairness, the FSymbols website (and name) came into being before Google launched Google Plus. It was created back when Facebook was considered "the" social network. The name probably seemed appropriate at the time. It isn't appropriate today, though.
That's because the functions it offers work great on Google Plus, just as they do on Twitter, LinkedIn, and other social-media sites. So what does it do, and how does it work?
Making It Work
Here's the drill:
❶ Open FSymbols.com, and click the first menu item: "Cool Text". Or simply click here to go direct.
❷ Choose a "generator" and type your desired text into the displayed input field at the left.
❸ Copy and paste your transformed text from the output field at the right.
That's it! Let's consider the sentence "Have a great day!" and run it through some of the available transformations:
✦Wavy: ᕼᗩᐯᙓ ᗩ 6ᖇᙓᗩ☂ ᕍᗩᎩ!
✦Encooled: Ħ@♥ε @ ❡ґε@☂ ḓαƴ‼
✦Small Caps: Hᴀᴠᴇ ᴀ Gʀᴇᴀᴛ Dᴀʏ!
✦Bubble: Ⓗⓐⓥⓔ ⓐ Ⓖⓡⓔⓐⓣ Ⓓⓐⓨ!
✦Underline: H̲a̲v̲e̲ ̲a̲ ̲G̲r̲e̲a̲t̲ ̲D̲a̲y̲
✦Overline: H̅a̅v̅e̅ ̅a̅ ̅G̅r̅e̅a̅t̅ ̅D̅a̅y̅!̅
✦Super-strikeout: H̶̷ᴀ̶̷ᴠ̶̷ᴇ̶̷ ̶̷ᴀ̶̷ ̶̷G̶̷ʀ̶̷ᴇ̶̷ᴀ̶̷ᴛ̶̷ ̶̷D̶̷ᴀ̶̷ʏ̶̷!̶̷
✦Flipped: ¡ʎɐᗡ ʇɐǝɹƃ ɐ ǝʌɐH (or) Hɐʌǝ ɐ ƃɹǝɐʇ ᗡɐʎ¡
There's a lot more. Fsymbols serves up fancy text-based emoticons like ٩(●̮̃•)۶ and ≧◔◡◔≦ and (͡° ͜ʖ ͡°). Feel like boasting? Try ᕙ(`▽´)ᕗ. Giving someone a wink? (>‿◠)✌ Lots of other possibilities.
Much of FSymbols is devoted to elaborate text-art that truly does work better on Facebook or other sites than on Google Plus. Some of this has to do with line-spacing and other formatting choices over which we have little control.
The Magic of Unicode
How does it work? FSymbols implements the miracle of Unicode font formatting. Just a few years ago, most fonts held around 256 characters, including upper- and lower-case letters and punctuation marks. These no longer are adequate.
Unicode fonts typically contain thousands of characters.
Unicode fonts, therefore, can and typically do contain thousands of characters, from Chinese to Cyrillic to weirdly accented European and Latin characters to smileys and math operators. Most modern computer operating systems recognize and display these, when presented.
The word "most" is important here: I've heard from people with even Windows 8 machines who see gibberish where others see beautiful icons. Unicode fonts, however, do seem to work on most desktop computers as well as Apple and Android tablets.
If they don't work on yours, you probably can correct this with a setting for text encoding. The possibilities are so varied that we can't cover them all here, so the usual disclaimer applies: "Consult your owner's manual." Do have faith that there is a fix!
Meanwhile, if it's working for you, click open FSymbols.com and have a go! Go wild and overdo everything for a while (the way I did) — then settle down and use your new fancy formatting options judiciously. In moderation, they can add spice to your social-media posts.
More Formatting Tools
In an earlier post, I covered two other resources for Unicode symbols:
✦My favorite is the Chrome browser extension, Fancy Characters. You can download and install it here. This adds a toolbar icon giving you drop-down access to the most in-demand special characters, text emoticons, and some formatting options such as ⓑⓤⓑⓑⓛⓔ ⓣⓔⓧⓣ.
✦A great website is CopyPasteCharacter.com. Here you'll find all sorts of special characters and symbols, neatly arranged into intuitive charts. Click one, and it automatically is added to the clipboard for pasting into your document. It also allows copying and pasting multiple characters in a single step.
Have you ever wished we had these special formatting options? Now that we do, how will you use them? Please share your questions and comments!
Image: Snappenstance.com. CC-BY-NC Debashish Samaddar with alterations by Gary Matthews.